Sony RM-X1S conversion
The Sony RM-X1S remote control can be considered a downgraded infra-red remote control. It uses a NEC µPD6124A, 6600A microcontroller, but transmits the control signals via the cable. Marco Müller developed and built the modifications described below to convert the RM-X1S to a infra-red remote control.
RM-X1S infra-red conversion
Pin 4 of the µPD6124A is used as the cable output. This pin was originally intended for a control LED. The command is output on Pin 4 unmodulated.
You can attach two infra-red LEDs with a transistor (BC639 or 2SC2001) and resistor to Pin 5 of the µPD6124A to use it's infra-red modulated output. You could borrow the neccessary parts from an old unused infra-red remote control, since their output circuit should be all very similar.
The RM-X1S runs fine with 6 volt operating voltage (one or more batteries). You can either supply voltage with the original cable and a 6V power source or add some small batteries directly to the RM-X1S (possibly with a larger ring to provide more space).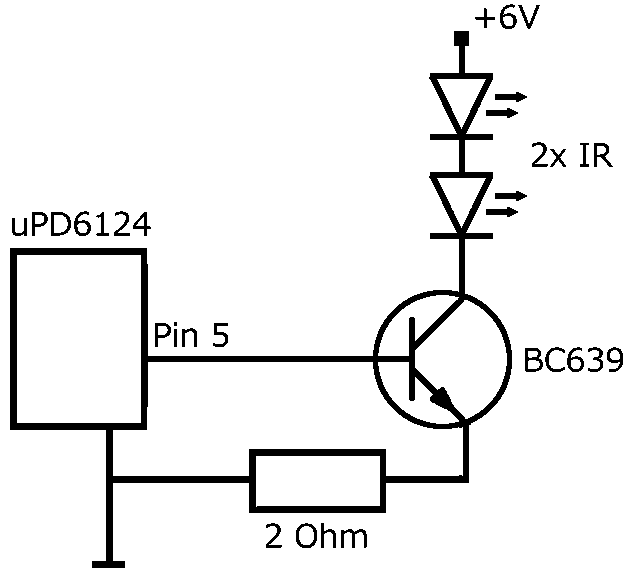 To fit the additional parts into the RM-X1S case you will have to add a ring to the bottom plate. Marcus built the ring from transparent Makrolon, so he could add two blue LEDs for a fancy lighting scheme. The fotos below show the details.