LPR2DMX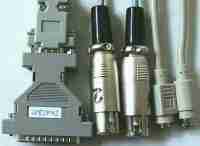 The LPR2DMX series from Lighting Solutions.
Hardware configuration
The LPR2DMX series need a parport with interrupt support enabled. This should be standard for all modern parallel ports.
Driver configuration
Synopsis
lpr2dmx [ parport=<parport-number>[,<parport-number>]* ]
The driver autoprobes for interfaces on all parports. The universes are ordered by parport numbers. If you want an alternate order you have to specify the order with the module option parport. You can use the following line in /etc/modules.conf:
options lpr2dmx parport=1
Linux might not correctly autoprobe your parport interrupt. You may have to enable interrupts manually in /etc/modules.conf:
options parport_pc io=0x378 irq=7
or, if you have parport support compiled into your kernel you can use the proc filesystem:
echo 7 > /proc/....